Pokémon is the biggest gaming media franchise of all time, it's fair to say, with an estimated value of £4 Billion, and with the gaming franchise's controversial jump to the Nintendo Switch, the franchise is at the height of its popularity.
It's probable that most of our audience has at least played one incarnation of the games, but for the benefit of those who haven't: your protagonist gets a Pokémon, takes on themed gyms, and beats four bosses in a row to win the main story.
The gyms you face are themed, but the leaders of them have reputations for being really difficult in certain games, and in this article, I'm ranking the 10 hardest gym leaders.
10. Wattson (Hoenn Region)
Wattson, if you haven't guessed by the name, is an electric type gym leader, and bookends the first half of the 3rd generation of Pokémon games (Emerald, Ruby and Sapphire), and for most people playing the games for the first time, is really a lesson in humility.
Particularly in Emerald, the game lulls you into a false sense of security with the first two gym leaders, and then, when you face Wattson, the difficulty sharpens like nothing else in the game. Why?
Wattson requires your team to grind all the way to your Pokémon level limit (and there will be an article on why that mechanic needs to go), as his Pokémon are all at level 20 and above.
So why would you need to get your Pokémon up to level 25 and above? Because at that point, most of the Pokémon available to catch are weak to his specific type, namely the electric type.
However, the slap across your face is the introduction of a mechanic not seen before the 3rd generation: Abilities.
So much as use one physical move against his Manetric, and your attacking Pokémon is paralysed, which means your beloved pet on your team can often get fried.
Myself, I really got the messy end of the wedge as I'm a fan of Swampert, and thus got made mincemeat out of several times before I got the dynamo badge.
9. Norman (Hoenn Region)
Hoenn Region, the setting of the third generation, was really somewhere that humbled all of us who had played the previous six games (Red, Blue, Yellow, Gold, Silver and Crystal).
Seriously, it really separated the men from the boys in this franchise, as after getting your arse handed to you by Wattson, you get an Empire Strikes Back level of defeat from your protagonist's father, Norman.
Just because he is a Normal type trainer, we got lulled into a false sense of security again.
After Wattson, you could be forgiven for thinking that Mauville City might be the only site of your defeat, and using status changing moves first might help, but this isn't the right play.
You see, Norman possesses a stupidly overpowered Pokémon called Slaking, which has a move called Façade. If his Pokémon isn't confused, paralysed, burned or poisoned, this move won't do that much damage.
If however, like most people, you caught an electric type Pokémon to get the edge on your dear old dad, then you'd better say your prayers, as Norman will mimic God from the Old Testament and practice some biblical styled Filicide on you.
I'm not joking. There is a way to make sure you get the edge on him: catch a fighting style Pokémon and get it to learn Vital Throw and Karate Chop by this point.
Otherwise, you might find the wrath of Pokémon's first father figure deciding that he's Abraham, you're Isaac, and God isn't as forgiving as you think.
8. Raihan (Pokémon Sword and Shield, Galar region)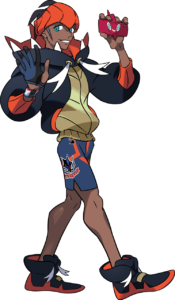 If you're looking for a Gym Leader permanently capable of kicking you where the sun can't shine, look no further than the final gym leader in the Galar Region (which strangely resembles Scotland), and is a Dragon type gym leader.
His strength isn't being the complete opposite of what you've got (as a lot of other gym leaders are on this list), but by using terrain extending moves to play to his Pokémon's strengths.
Seriously, even if you are a seasoned Pokémon gamer, this one will take all the energy out of you, whilst also slapping your Pokémon's face with a sandstorm.
Don't underestimate this one, and don't just use ice type Pokémon, as his final Pokémon is a Steel/Dragon type that will make everyone humble (including your mum).
7. Sabrina

The first generation of the Pokémon games had a few issues, from Zubats being more common than idiots on reality TV in Mount Moon, to the insane type advantage Drake has on you in the Elite Four, but by far the biggest kick your private parts are going to get is Sabrina.
Why? Well, none of the starter Pokémon have a type advantage, and the one you would be best advised choosing if you're new to the franchise is extremely vulnerable to her psychic type attacks.
Grass, bug, fighting and bird types get extremely and severely beaten in this gym type, and to make it worse, there's no way you're getting a speed advantage over her, as she has the Pokémon with the fastest speed stats in the game.
This might seem severe, but in the immortal words of Billy Mays, "but wait, there's more!"
To fit the psychic type theme of the gym, Sabrina is in the middle room of a 3 by 3 room grid, and to reasonably get your Pokémon levelled up enough, you have to beat seven trainers, all with psychic type Pokémon before she can even kick you into next week.
Top tip? Catch a Geodude and a Sandshrew before you get to her, and train them up good. You're going to need them.
6. Clair (Johto region)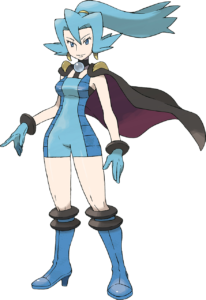 After we all learned in Kanto how terrifying Dragon Pokémon can be, Johto has a surprising lack of them until the very last gym in Pokémon Gold, Silver, Crystal and the remakes.
Then, like your mother when she sees me again, she gets a painful reminder of how bad hubris can really be.
Johto's level difficulty was scaled back after the response to what gamers had given Game Freak following Pokémon Yellow, but this is where you're reminded that if you truly want to be the best like no-one ever was, you're going to need to put in the hard work.
Only your Feraligatr can use a super-effective move against her, but don't think your starter Pokémon will help you tank through her battle, as her Dragonite is capable of learning both Ice and Electric types.
She royally takes the wee out of your bladder afterwards, as well.
After beating her, you find yourself then running another gauntlet, this time against overpowered Dragon Pokémon in a cave before you can get her badge and make the jump to Victory Road.
Seriously, if you're picking up a second-generation game for the first time, train up a well-balanced team. You're going to need it.
5. Lt Surge (Kanto region)
So, you're deciding to be the odd one out of your friends and pick the 1st generation game with the Pikachu as a starter. Good luck!
Kanto is by far and away one of the more mountainous regions in the world of Pokémon, and although your Pikachu may be overpowered than wild ones, it's a lot of seriously hard work.
From getting your electric mouse to like you, to beating a man with a giant… well… let's just say he's Brock hard, in my opinion, this is the hardest game Pokémon have ever made.
I don't say this lightly, either. After beating everybody's favourite grumpy Japanese ginger, you finally make it to Vermillion City, which makes most people fancy a rest, but this is where the game ramps up in difficulty.
You see, after Brock's bashing you, it's been relatively plain sailing, even as you beat every trainer possible on the SS Anne and get HM01. However, once you enter Vermillion Gym, everything changes.
I hope you caught that Geodude or Onix in Mount Moon, because using one is the only way you're going to beat Lieutenant Surge and his gnarly Raichu.
The worst thing about Lieutenant Surge is that he actually gets harder to beat with every Kanto remake, but the original sparky butt-kicking was definitely the worst.
4. Brycen (Unova region)
Don't let the Shaolin monks and the silly costume make you think Brycen is going to bring the heat, and bring your Dragon and Rock type Pokémon, or, as a lot of unhappy gamers found out, you'll find out why you don't mess with Ice Pokémon.
Seriously, of all the Ice-type gym leaders in the Pokémon franchise, there really isn't anyone as difficult as Bryce.
Why? Well, for a start, your fire starter Pokémon in Pokémon Black/White/Black 2/White 2 is rendered absolutely useless by his Beartic knowing the move Brine, which is of the water type.
Also, his first two Pokémon know the move Mirror shot, which means that if you don't hit a one-hit KO with a super-effective move, then it is going to be used straight back at you.
Cold as all hell, I agree, but fear not, prospective Unova Region explorers and future champions, there is a way around this.
Get a ground type, a poison type and an electric type at level 38 on your team with decent moves, and you will be fine.
Just don't rely on Emboar tanking you through this battle.
3. Drayden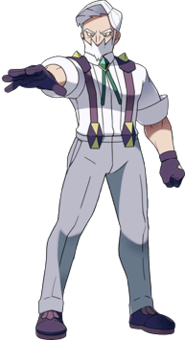 Opelucid City Gym in the Unova feels like you've just climbed a mountain, as with the Black/White games and their sequels, the games take forever to complete.
There was a reason for this:
The previous generation had garnered huge praise for the length of their gameplay, and so Game Freak decided to go for broke with generation 5, and the Unova region genuinely feels gigantic.
It's thus fitting that the theme of the last gym in the region is quite literally themed around a mountain, where you face a Dragon Type gym leader who, to be fair, resembles an aged Captain Haddock from Tintin, but don't expect any blistering barnacles here, as Drayden will metaphorically beat you until you change eye colour.
Not only are all of the trainers you face incredibly difficult, but Drayden ups the stakes by eliminating one type weakness that Dragon Pokémon previously had (ground) by using an ability.
Levitate is an ability that renders any Pokémon who has it immune to this previous weakness.
Bad play, Game Freak and Nintendo, bad play.
2. Blue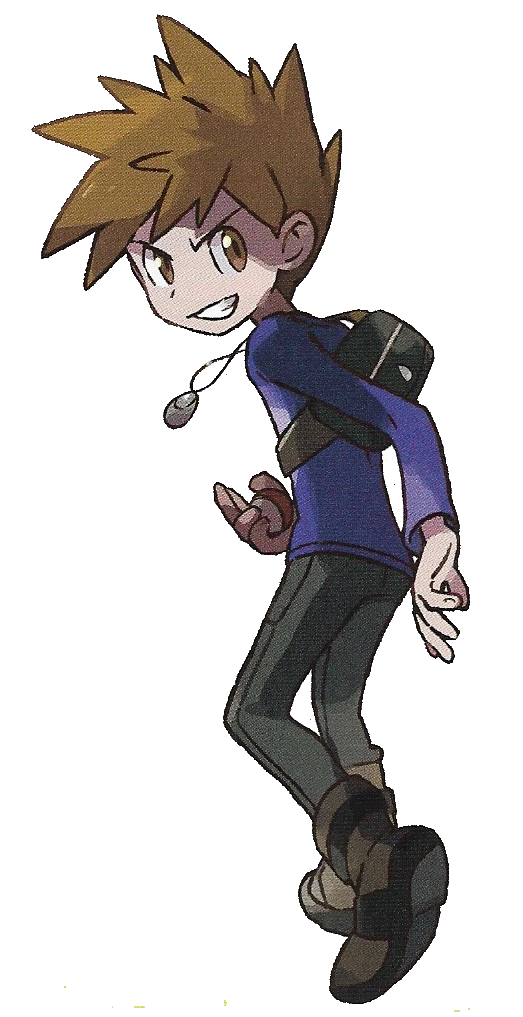 If, like this handsome and well-endowed author, you have been playing the Pokémon game series since the original, well then did both Pokémon Ultra Sun and Moon and the Let's Go series have a monster of a shock.
Not only does the hole of an ass (it's not a swearword if I'm referring to a donkey) spend all of his energy in the original games sniping you at every weak point in Kanto (and in FireRed and LeafGreen), but he's travelled around the world and ends up at the Battle Tree on Poni Island in Alola.
Word of advice for the uninitiated, if you get to the Battle Tree for the first time, choose to battle Red, as Blue will go all-out in a manner previously unseen in the series.
The Let's Go series was supposed to be an easier ride of the Kanto region than we've already had in previous games, and you could be forgiven for relaxing as you play through the series, however, guess again for the final gym before the Elite Four, as Blue brings his "A" game in this battle.
The former cocky hole of an ass actually gives you the chance to leave and re-enter Vermillion Gym to heal up your Pokémon before taking him on.
Please, if you haven't played Let's Go Pikachu or Let's Go Eevee, take him up on that offer.
You're really going to need it, as not only has he got an incredibly quick Alakazam, but he has a Mega Charizard, for which using Ice or Ground just will not work.
Prepare your first-aid kit, as to paraphrase Dolph Lundgren, he will break you.
1. Brock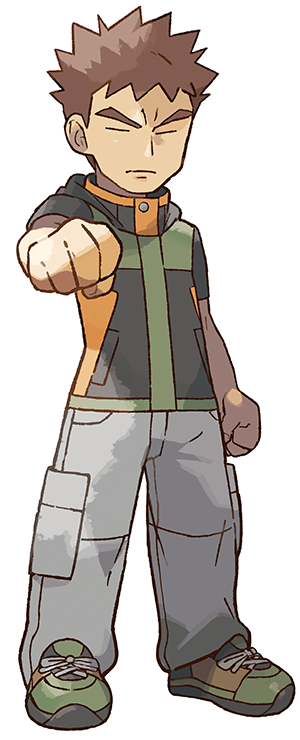 Brock is the first gym leader in whichever Kanto region game you play, but it's primarily Pokémon Yellow that I want to focus on and for one good reason.
In Yellow, you don't get either Squirtle, Bulbasaur or Charmander, you get given a Pikachu which the game heavily implies is the one Ash Ketchum/Satoshi gets in the anime and manga series.
Throughout the first few battles, you learn that Pikachu is incredibly effective against both Pidgey and Spearow and can hold his own through the winding Viridian Forest.
Once you get to Pewter City though, the game ramps up the difficulty in a way that would make Dark Souls blush. Why?
Brock is a rock-type trainer, with only one gym trainer guarding him, which you can even avoid, but please, dear reader, don't.
Not only are all the Pokémon you face super-effective against your dear lovely Pikachu, but you can only really catch and train 3 Pokémon that appear beforehand that can really give Brock a pasting.
Top tip: catch a Mankey and train it up to learn Karate Chop before you take on Brock, and you'll really knock the wind out of his sails.
Otherwise, the man stood at the top of the gym with his giant rock snake will use it to slap you across the face and straight out of the gym. Read into that as you will.
So, that's that, and well over 2000 carefully selected words to allow you to prepare for some of the biggest challenges in the Pokémon gaming franchise have been typed.
Did you enjoy it? Did you hate it, or did you simply not like the jokes I made about Brock and his giant Onix?
Either way, click here and let me know, and thank you for reading.
Yours,
Davey
Have you seen our Top 10 Pokemon ROM Hacks? – click here